Noise protection wall SA 92 absorbing and noise protection wall SR 92 reflecting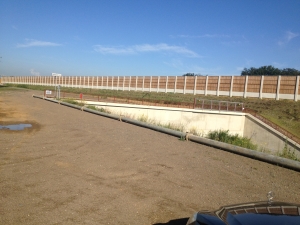 The graceful designed noise protection wall SA 92 fulfills the highest requirements like ZTV Lsw.
The nature material wood adds itself harmoniously into each landscape and brings warmth and life in
each traffic and industrial area. The pollution free boiler pressure impregnation of
Pine wood with CX salts guarantees life span for many decades.
De-icing salt resistance and plant compatibility are further important characteristics, what this
high-absorbing noise protection wall distinguish. The material wood leaves an individual
Organization of the wall for each situation provide.
Airborne sound insulation of 28 railways and sound absorption of 8 railways fulfill highest sound reduction.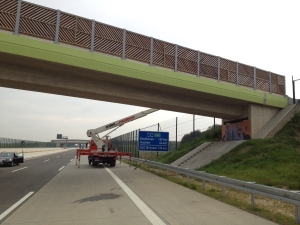 ... may be it a piece of nature?
... if, then noise protection wall SA 92

Technical data:


Absorbing wall
Airbonrne sound insulation:
Sound absorption:
coefficient:
Weight:
Height:
Element length:
Element strength:
Insulation: Mineral wool:






28 railways
8 railways
56 kg/qm
max. 250cm
400 cm
19 cm
120kg/cbm
covered, 50 mm strongly

Technical data:


Absorbing wall
Airbone sound:
Weight:
Height:
Element length:
Element strength:






26 railways
33 kg/qm
max. 250 cm
400 cm
36 cm

The sizes are variable for aligners
Construction : Pine wood framework, boiler-pressure-impregnates or larch, nature groove and feather/spring back, front:
Round bars: 54mm